Plumbing Services
At Roddo Plumbing we are available right around the clock seven days a week.
So when you have an emergency plumbing situation and just can't wait until business hours, call Roddo Plumbing and we'll be there as soon as possible with a solution to your emergency.
We cover the entire range of plumbing services, from leaks in toilets, taps and mixers, water and gas connections to pipe blockages and broken pipes.
We have the latest plumbing equipment including a jet blaster to flush away debris that is causing the pipe to block as well as a Closed Circuit Television Camera to look deep into pipes so we know exactly what we are dealing with and can take the best course of action and provide a long term solution.
We also specialise in sewer and storm water replacement in those hard to reach areas with mini excavators and also offers sewer relining to avoid the cost of repaving pipes.
Roddo Plumbing also recognises the importance of saving the earth's resources which is why we install rainwater tanks and recommend solar, gas or heat pump hot water systems.
The installation of maintenance of fire hose reels, fire hydrants, fire pumps and sump pumps is also our specialty.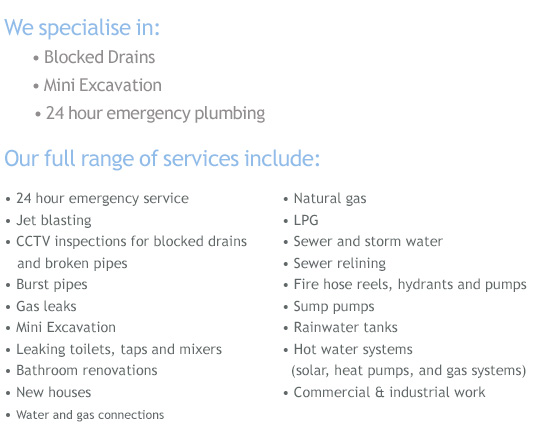 For more information call Luke on 0413 18 38 58.